Have you ever got that feeling when an artist or a band talks right to
you through a tune you have heard hundreds of times before? Sometimes
it happens to me anyway and last night Coldplay talked to me
through their tune Green eyes. I cried and the words got an entirely new meaning
to me.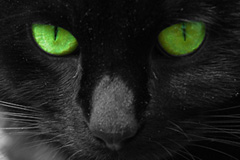 Honey you are a rock
Upon which I stand
And I come here to talk
I hope you understand
That green eyes, yeah the spotlight, shines upon you
And how could, anybody, deny you
I came here with a load
And it feels so much lighter, now I've met you
And honey you should know, that I could never go on without you
Green eyes
Honey you are the sea
Upon which I float
And I came here to talk
I think you should know
That green eyes, you're the one that I wanted to find
And anyone who, tried to deny you must be out of their mind
Cause I came here with a load
And it feels so much lighter, since I met you
Honey you should know, that I could never go on without you
Green eyes
Green eyes
Ohohohoooooh
Ohohohoooooh
Ohohohoooooh
Ohohohoooooh
Honey you are a rock
Upon which I stand
By Coldplay, 2002